1908. What a year!
Dutch scientists produce solid helium. Frederick A. Cook claims to have reached the North Pole (he didn't). And H. Kamerlingh Onnes makes helium liquid (confusing times for helium!). And if that's not enough, the first ever beauty contest takes place in Folkestone. Phew!
So why not cap it all off and start a Swiss office products company? And call it Pfeiffer, which is German for 'Piper' (although it's a Swiss company). Anyway … it's the vision of one Jakob Friedrich Pfeiffer. So in 1908 he opens his first store in Zürich, Switzerland. The whole concept of the office is a new innovation. Things take off and more stores open in major Swiss cities, including that one near that lake, you know … Geneva!
For the next 35 years things go well, business is growing. Eventually, Jakob passes away and his son in law Dr Max Wolfensberger, buys the company from the family. Max increases the business range, importing innovative products from Germany and the USA, and business is good. Very good. Now, here's where it gets interesting.
1933. Paris.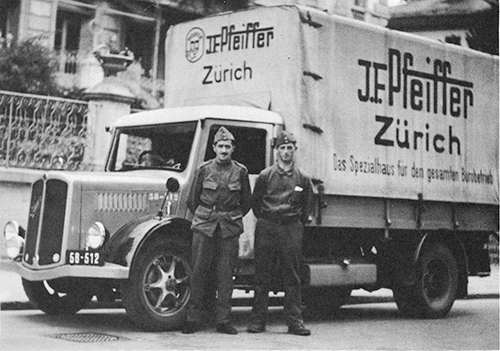 Take your mind back to Paris,1933. The Eiffel Tower is already middle aged at 44 years (and no longer the tallest man made structure*) and dogs are still doing that stuff on the sidewalk … but Louis Douvry is a busy man. He's also a very happy man, for he's just invented Plastic Binding! In the US, this is licensed to a company called Plastic Binding Company (Plastico). It also means smaller binding machines become the must-have new technology. In 1947, two senior executives of Plastico form General Binding Corporation (GBC) to promote this new plastic binding innovation.
So what is it with binding?
Binding to us, is that business process that's always been in the background (in that cupboard or behind that desk). But you have to remember that before modern (and portable) binding machines, the huge amount of paper documents produced by companies were sent out to external printers and binderies (remember, there was no digital storage). Jobs could take many days or many weeks. So, imagine the revolution if you could have a bound document in a day or even an hour! And you could modify and make changes almost instantly!
1950. An American in Zürich.
Move forward to the cool 1950's. General Binding Corporation (GBC) has been bought out by Bill Lane and Ed Uihlein, owner of Schlitz Brewing Company. They are looking to expand into Europe.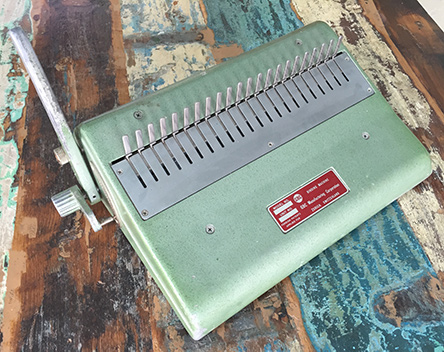 And here we also discover a certain Mr Rogers, GBC's Export Manager, strolling (as one did in the 50's) in the rather unfamiliar territory of Zurich's train station. He's come a long way and has only forgotten one tiny thing. To learn German, French, Italian or Romansch.
Being American, he blithely walks into the Pfeiffer shop and starts spruiking his GBC machines. As no one speaks English, he gets little response. To the rescue comes the boss, Dr Max Wolfensberger. Max is quick to see the opportunity and soon secures the Swiss rights for GBC machines! In the following years, he sets up the production and marketing for GBC for all of Europe.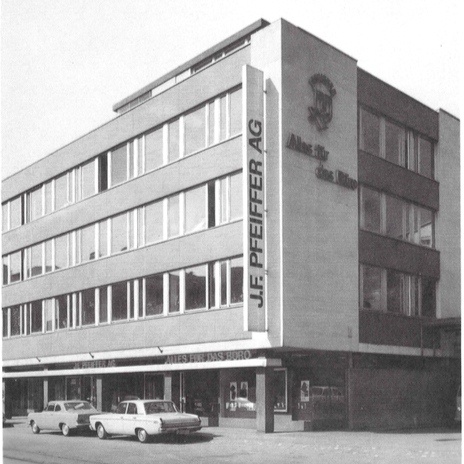 Max introduces his son Ueli to the wonders of plastic binding. Putting aside his ski-racing ambitions Ueli travels to GBC in Chicago to learn the ropes – or in this case, the Plastics. Ueli returns after 8 months to continue his studies at University in Geneva, selling GBC machines to finance his studies, while winning two silver medals in the Swiss National Water-ski Championships.
1969. Ibico is born.
It's the year of the moon landing and the first flight of the 747 Jumbo. By April, Max Wolfensberger and GBC have decided to go their separate ways. Dr Ueli Wolfensberger and wife Ingrid feel it's time to start their own company – Inter Binding Company. This is shortened to Ibico because it's just such a mouthful in German, French, Italian or Romansch. It is a great success and Dr Ueli Wolfensberger establishes production facilities, branches and subsidiaries all over the world.
1997. The Punch and Binding show.
Kombo, Komborella and Ibimaster (not to forget the legendary EP28 and HB28!) … these are heady times at Ibico! They pioneer PTC as a heating method for laminating and thermo binding machines, and sell more binding and laminating machines than anyone else in the world!
Then, in 1997 a strange thing happens: GBC buys Ibico, and Ueli and Ingrid start another business called 'Peach' – another successful venture selling ink cartridges to an ink hungry world. It's a new world of opportunity.
2014. Pfeiffer rises.
But what about Pfeiffer, I hear you say. Did it get left at that Zurich train station in 1950 along with the lost luggage? No way! It sprang back to life thanks to a new generation of Wolfensbergers (direct descendants of Dr Max Wolfensberger) who carry on the fine family tradition of great office products and very reasonable prices with that immeasurable 'Swissness' that makes their products unique.
Today, Pfeiffer sells a wide range of laminating and binding machines for home and office. Plus all the genuine Pfeiffer supplies to complement them; like laminating pouches big and small. Plastic, coil and wire binding combs and really cool covers and tabs. PLUS really amazing inks and toners for all popular printers. Then there are calculators, from miniature to Scientific, then there are staplers, writing instruments – and much more…
So if you have a Pfeiffer product, it's like holding a little piece of history in your hands. Look after it well. And it will serve you for many years to come. That's the Pfeiffer promise.
* The Chrysler Building took that honour. But then again, they didn't invent baguettes. Or plastic binding.